Full transparency here… Rick Wormeli wrote the book Fair Isn't Always Equal and it is excellent! It is on a must-read list for many educators, including this one. I've recently put a lot of thought and consideration into the notions of fair, equal, and equitable and the roles they play in learning design. I am writing to share my context with other educators. My role in education has recently allowed me to jump back into the design of a learning pathway for a classroom of students. Honestly, I miss this. Before I left full-time teaching in a classroom setting, I was experimenting with a better way to design learning experiences that differentiate for my kids.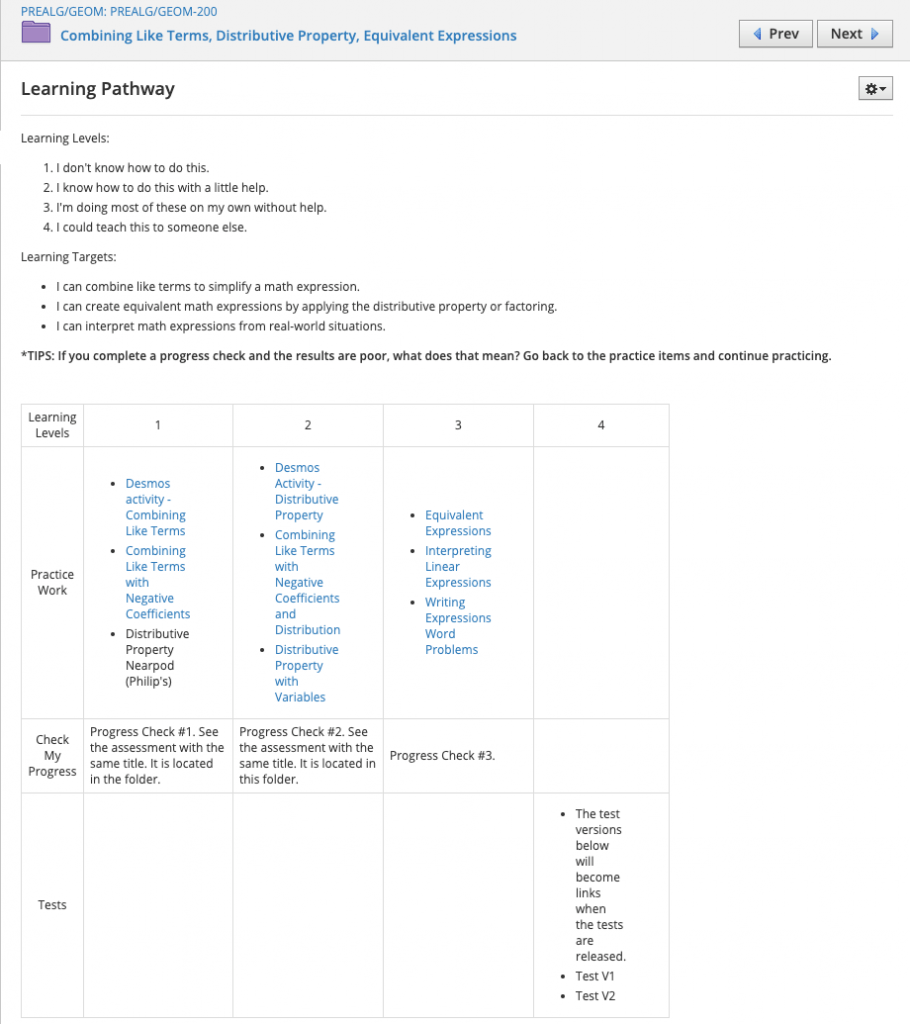 Several years ago, I began a relentless pursuit to liberate my students from this conveyor belt of learning that is one-size-fits-all (or is it none?). Prior to increasing my capacity and skill with technology, this was a task that seemed out of reach to me. The current model of schooling still restricts my students and teachers to arbitrary calendar dates, meaning that all students have to attend school for 180 days before they can advance. Even though no one really knows how long it will take any one student to learn x, y, and z, I could still innovate within the constraints of the calendar. As a math teacher, the conveyor belt of learning meant that all kids would receive equal time for instruction, equal time for practice, equal numbers of problems to practice, and equal number of days to learn before providing evidence in equal number of ways. There was a time in this journey that I realized that I didn't have to force this level of uniformity onto my students any longer. As Rick says, I will always be fair, but I will rarely be equal. To be clear, the conveyor belt sends several messages to students. To some, it says if you can't keep up, sorry. I don't want to imply that all teachers feel this way, but doesn't that message also say it is more convenient for me to plan this way, so keep up. For others, the message says I'm sorry, but you'll have to wallow in mediocrity even though you're ready to move on.
My journey began to shift when I realized I could leverage technology to better respond to my students and that response would greatly impact my instructional design. The pathway you see laid out in the image above represents an experience that embraces the understanding that all kids learn at different rates with various levels of support.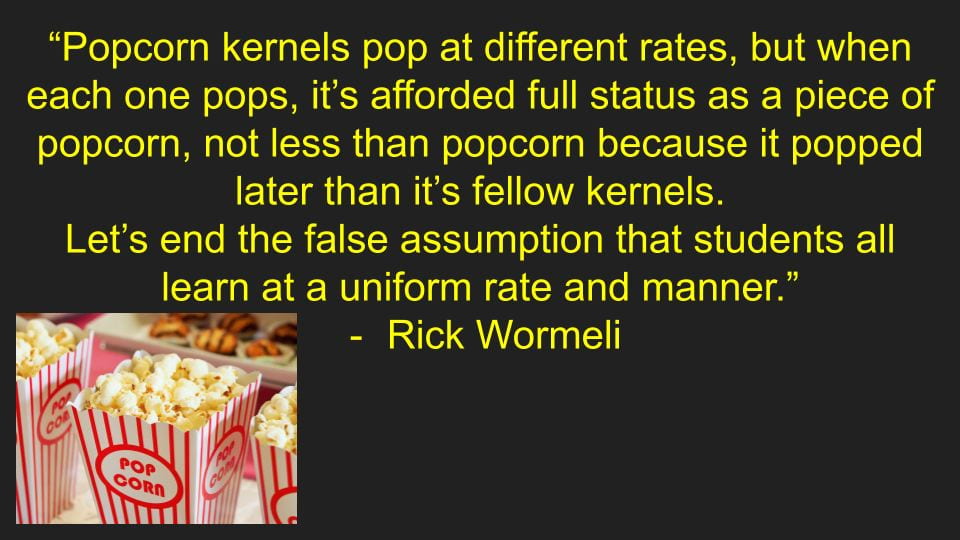 One of the more enlightening experiences I had along this journey came when I realized I could leverage technology to provide students a number of practice opportunities that reflected what they needed in order to demonstrate proficiency. No longer were all of my students receiving the same 25 practice problems on the same night. I also recalled nightmarish experiences when I would pass out tests on test-days and cringe when I got to a few desks of students I knew were not ready for this test. Those days are in the past. I could get into the nuts of bolts of that learning pathway, how students navigate it, the face-to-face learning experiences (whole group and small group) vs the self-paced ones, the role the formative practice plays and how it impacts student ownership, autonomy, and self-assessment. Not to mention the depth of learning, the mental dexterity required to complete some of the experiences, and the metacognition included in reflective opportunities along the way. But I want to hone in on the grip that fairness has on so many classrooms.
I fear too many classrooms are focused on being equal with students, in the interest of fair practice. But let's be clear about equality.
What we really want in our classrooms is equitable and responsive teaching. Being fair and equitable is giving kids unique and specific supports so that all students have an opportunity to succeed, or learn. That means we have a responsibility to provide those supports when possible. So what practices fly in the face of equity? Consider whether your own instruction rides on a conveyor belt of one-size-fits-none instruction. Let's consider what equitable grading practices look like. Are our grading practices handcuffed by equality? I know some teachers that allow redos or reassessment in their class, for example. Hats off to those teachers for recognizing the value of iterations in learning, something that applies to nearly every single profession in the world. But, in the interest of being equal with all students, teachers give partial credit to the second or third iteration or redo. The most typical response here is this practice ensures fairness to those students who got it the first time. Are we punishing students for learning at a different rate than we're teaching?
I appreciate you reading this far. After some recent work in a classroom, I began to reflect on fairness, equality, and equitable teaching. The pathway I provided represents just one example of how instruction can be designed and innovated in ways that provide students healthy and equitable experiences. I think it also points to the greater world in which we live. If teachers still consider themselves the master of content in their class, they've been outsourced by Youtube and Google. We've got to start providing students opportunities to learn how to learn. That doesn't mean they do so in the absence of a teacher, but it does mean the role of the teacher has to change from delivering content to managing student learning. Are we providing kids opportunities to inquire, filter information, and apply it in authentic ways? Think about how much learning we omit because we hold students hostage to arbitrary timelines.