I've had this thought on my mind for a while now and I believe I just received the message I needed to go ahead and release it.  Neil Gupta and Mark Weston recently published posts that I read back to back one evening.  Both posts struck a similar cord with me.  I write often about the impact that social media connections have made on my practice.  I use caution to be sure my tone isn't condemning of more traditional means of professional learning by teachers.  It's not that traditional school or district provided professional development isn't effective.  It definitely can be and I hope yours is effective.  I just can't imagine any school or district leader believing that school or district provided PD occurs often enough.  The issue is the school calendar just doesn't allow enough opportunities for educators to engage in reflection, sharing, and growth.  In fact, if you're relying exclusively on school or district provided opportunities to grow, you're likely an irrelevant educator to today's students.  Don't believe me?  Ask your students.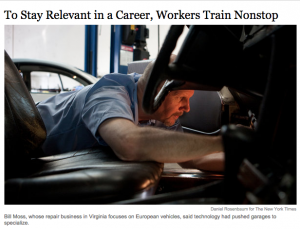 Many connected educators have been exercising patience with non-connected for years now.  Tom Whitby has wrote about this several times.  Educators have been collaborating for years, this is not a new phenomenon.  The methods by which educators are collaborating have changed due to the impact technology has had on today's classrooms and the learners that fill our classrooms.  To remain relevant, educators are turning to social media to increase the frequency of collaboration that engages reflection, sharing, and growth.  Every education conference available has it's own social media component typically leveraging hashtags to connect educators, build community, and expand the conversations.  Point is, using social media to increase informal learning opportunities speaks for itself.  The value is there.  What are you waiting for?  I no longer believe schools or districts can transform without the impact that tools like Twitter can have on educators.  Neglecting to connect to opportunities for reflection, exposure, sharing, and growth is a recipe for mediocrity, status-quo, and irrelevance.  It's time for district leaders to aim higher!  So what can school or district leaders do to aim higher?
Todd Whitaker says often: "average teachers don't know they are average."  Social media can help expose your less effective teachers to more effective pedagogy.  In addition to peer observations that can occur within the building, social media provides a looking glass that can expose everyone.  It's also convenient that the exposure and reflection on practices happens in non-judgmental environment that edchats and blogs can provide.  Truth: educators on Twitter sharing their practices are generally the most effective teachers in their respective buildings.  Want to improve your school?  Make your teachers more like the most effective teachers.  Get your teachers engaged.  Make it a part of your culture.
"Stroke 'em, you gotta stroke 'em. -Todd Whitaker"  How do your most effective teachers get students to do what they want them to do?  They stroke 'em.  District leaders must be engaged, leading the way, stroking your teachers that are engaging in these opportunities to improve their practice.  Sustainable change won't occur without it, I'm convinced of that.  You'll develop capacity by making yourself visible, sharing your activity, and being the change that you wish to see.
Flip opportunities for information dissemination.  Make your teachers engage in the tools to participate in specific meetings, teams, book studies, etc.  Incorporate social media tools into your FACE (Family and Community Engagement) by leveraging a school hashtag to knock down the walls and share your school's story.  Make this a part of your teachers' practice in communicating with the home.
Get rid of the title!  Be title-less.  Every school or district leader I follow, seek input from, receive encouragement, support, and critique, serves first.  They didn't stop learning just because they received a title.  They serve with an open heart, encouraging and stroking those most effective teachers.  They build capacity by empowering educators to serve others in leadership positions.