Back in February of 2015 I read an amazing blog post by Jimmy Casas.  Jimmy wrote about a particularly moving experience he had with the driver of a shuttle van while at a conference in Atlanta.  The blog post struck me to the core, and I had only read about this man named Rodd.  I am nearing the completion of my first year in administration.  For some time now, my perspective and view of school leadership has been shaped and driven by the work of guys like Jimmy and the rest of the WGEDD crew: Joe Sanfelippo, Jeff Zoul, and Todd Whitaker.  I got to meet these guys for the first time at WGEDD in Wheeling, West Virginia back in December.  I knew right away the things I had read weren't just words but they were action.  Jimmy greeted conference attendees with a high five as they signed in at the registration table.  Jimmy walked around and spoke to everyone, no doubt, making a point to make some kind of contact with each and every attendee.  I watched, with purpose.  As other speakers took the stage and presented, Jimmy didn't disappear as if he were bigger than what was being shared.  Jimmy didn't talk to his buddies in the back, browse social media from his phone, or read the newspaper.  Jimmy stood in the doorway during Todd Whitaker's keynote and soaked it in just like the rest of us.  I imagine there may have been opportunities he missed, but to my keen eye, Jimmy didn't miss many opportunities to lift up someone else.  His efforts weren't lost on me, not at all.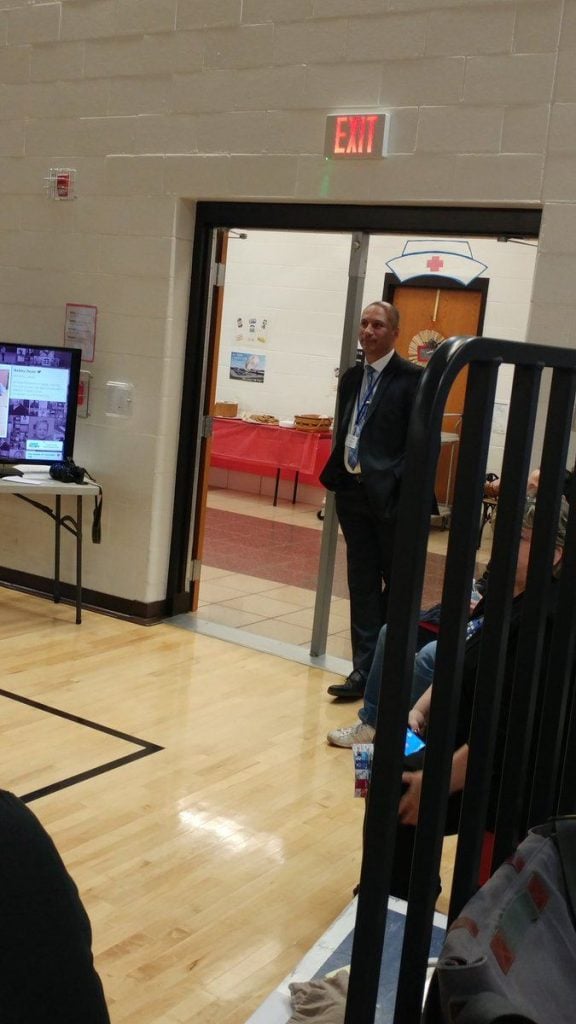 I study, read, and even listen to what others have to say about the service of people.  I subscribe to the notion that my primary job as assistant principal or principal of the school is to serve.  I believe trust is the oxygen that all educators breathe and that trust is earned through genuine action to build and nurture relationships.  Beth Houf and Shelley Burgess, authors of Lead Like A Pirate published this image last year and it's been the single response I give when someone asks me what I do.  
Tuning in and living an outwardly focused life isn't easy for me.  I don't believe it's in my nature to look to others first.  I can admit that's an area of weakness and one that I have to be intentional about improving.  Mark Batterson's book The Grave Robber recently reminded me of the famous study where viewers were asked to watch a 1 minute clip of people standing in a circle passing a basketball.  Viewers were asked to count the number of passes made by people wearing white shirts.  About 30 seconds into the clip, a woman wearing a full gorilla suit walks into the frame, beats her chest a few times, then walks out.  After the clip ends, viewers were asked if they saw a gorilla.  About 50% of the viewers said they did not see a gorilla.  The researchers concluded that inattentional blindness explains why some viewers didn't see a gorilla that walked right in front of them.  I concluded that I'm afflicted with inattentional blindness far too often, missing opportunities to serve and lift up others, even when they are right in front of my face.
This past Thursday and Friday I chaperoned a senior trip to Washington DC.  The driver of our charter bus was named Larry.  I greeted Larry as soon as he picked us up at 1:30am Thursday morning.  Larry and I were packing duffle bags and suit cases in the bottom storage when I introduced myself.  I sat in the front seat of the bus and my wife, Julie, sat right behind Larry.  Larry struck up some conversation with Julie and I, as well as the rest of the chaperones seated near us.  It's funny now, but I remember several chaperones and I remarking about how incredible Larry's hearing must have been because he chimed in on conversations even when we thought he couldn't hear us or wasn't listening.  It was apparent Larry was a great listener.  My wife, Julie, is pregnant and due in August.  Needless to say, walking 10+ miles in the rain Thursday touring DC was taxing on my body and I'm not carrying an extra!  Larry was always quick to ask about Julie as she got back in the bus each time, often calling her super-mom!  Larry asked about our daughter Miley.  He asked how old she was (5 years old) and if she was ready for the new baby.  Larry laughed at the stories we told and he even shared some stories of his grandkids.  Before the bus arrived back at my school at 1:00am Saturday morning, Larry asked if he could speak to my wife and I before we got off the bus.  Julie and I waited up front as our students exited one by one.  Larry proceeded to offer to pray for us and remarked about how friendly we were to him during the trip.  Larry said the most thoughtful prayer, even considering to pray for my daughter Miley as she would have to adjust to the newborn baby entering our family.  We thanked Larry over and over, overwhelmed by his kindness at the time.  Immediately, the memories of Larry's small actions flooded my mind in that moment as I began to realize all the selfless, outwardly focused actions I had witnessed from Larry during our trip.  I was impacted, to the core, by Larry's kindness and his genuine service of other people.  I have never driven a charter bus.  In fact, I've not been behind the wheel of any motor vehicle of that size.  As we drove through Thursday morning traffic getting into DC, it was easy for me to imagine how focused a charter bus driver must be in order to safely navigate such a large vehicle.  I noticed Larry used a Garmin GPS and his cell phone to plug in destinations in order to aid his directions.  The Garmin GPS provided a trucker's route, avoiding bridges that don't meet capacity, low overhangs, and other obstacles the average driver never considers.  I can't fathom the effort required to drive a 55 passenger charter bus in the middle of DC traffic.  My point is, Larry had every reason to be focused and tuned in to driving that bus, yet he still managed to connect and serve those in his seats.  In my opinion, Larry is a man with great vision, overcoming inattentional blindness and truly tuning in to the opportunities around him to serve and connect with others.